A Beginner's How To Choose Handle Contact Lenses
Jun 09,2022 | Freshlady Colored & Cosplay Contact Lenses Store

Colored contact lenses are a good choice, whether it is for medical reasons or decorative purposes. However, just like any other new thing, one may find it hard to do right by them. A lot about them can be challenging, including how to wear or take care of colored contacts. That's more so the case with beginners, especially when wearing colored contacts for the first time.
Fortunately, information is power and can change your situation for the better in an instance. That's why this article focuses on handling colored contact lenses perfectly. You will be surprised to learn how easy it is. If the difficulty has had you opt for glasses, you will undoubtedly shift to contact lenses right away. So, without further ado, let's take a look at a detailed guide to handle contact lenses.
Part 1 – Wear & Care Tips for Colored Contact Lenses
Let's look at the tips to consider as you wear, take out or take care of your colored contact lenses. What are BC and DIA in contact lenses? We will also highlight that.
How to Put Colored Contacts in For the First Time
Upon opening the vial, you can now wear your colored contact lenses. Follow these steps to do so quickly and perfectly.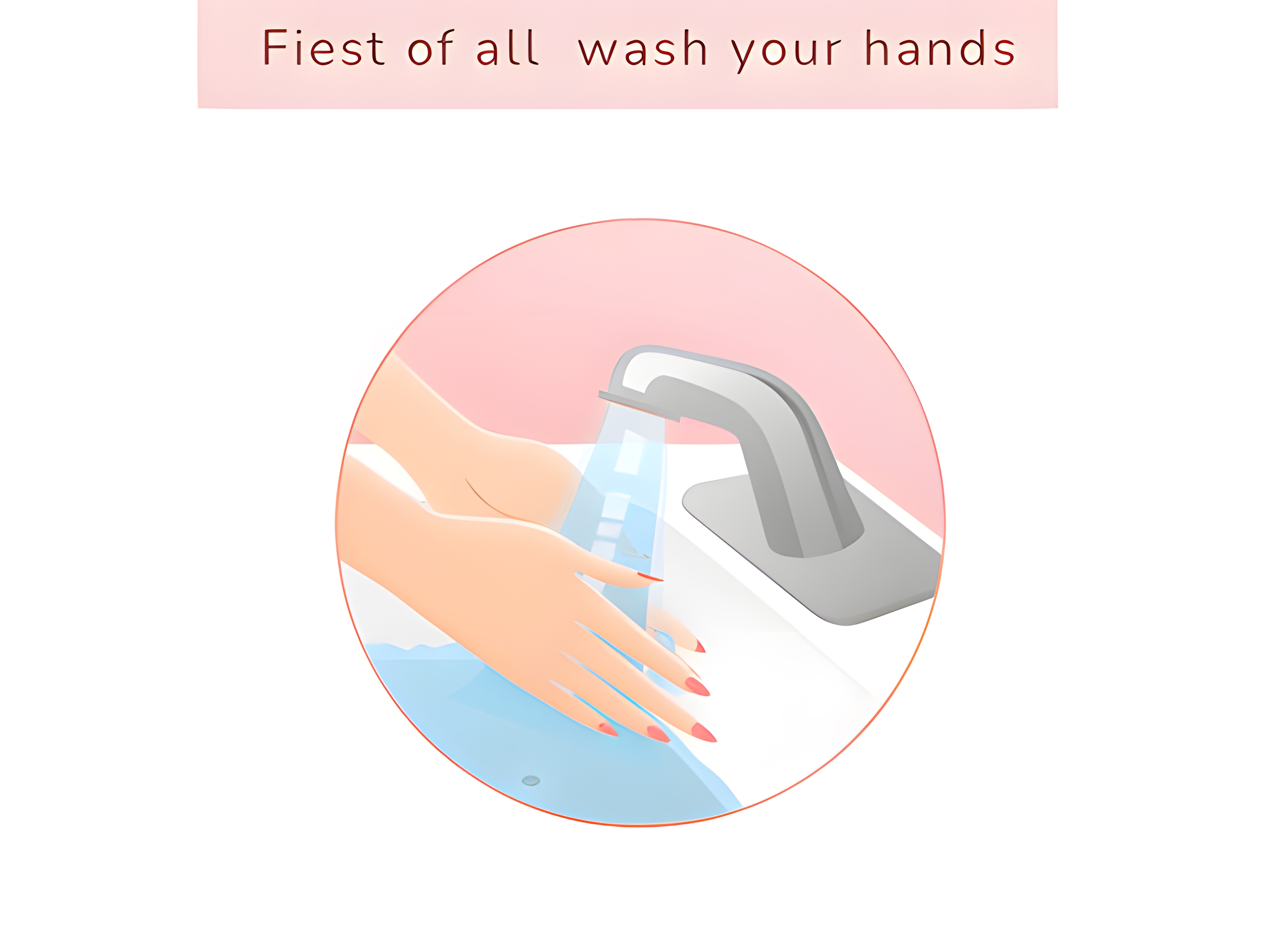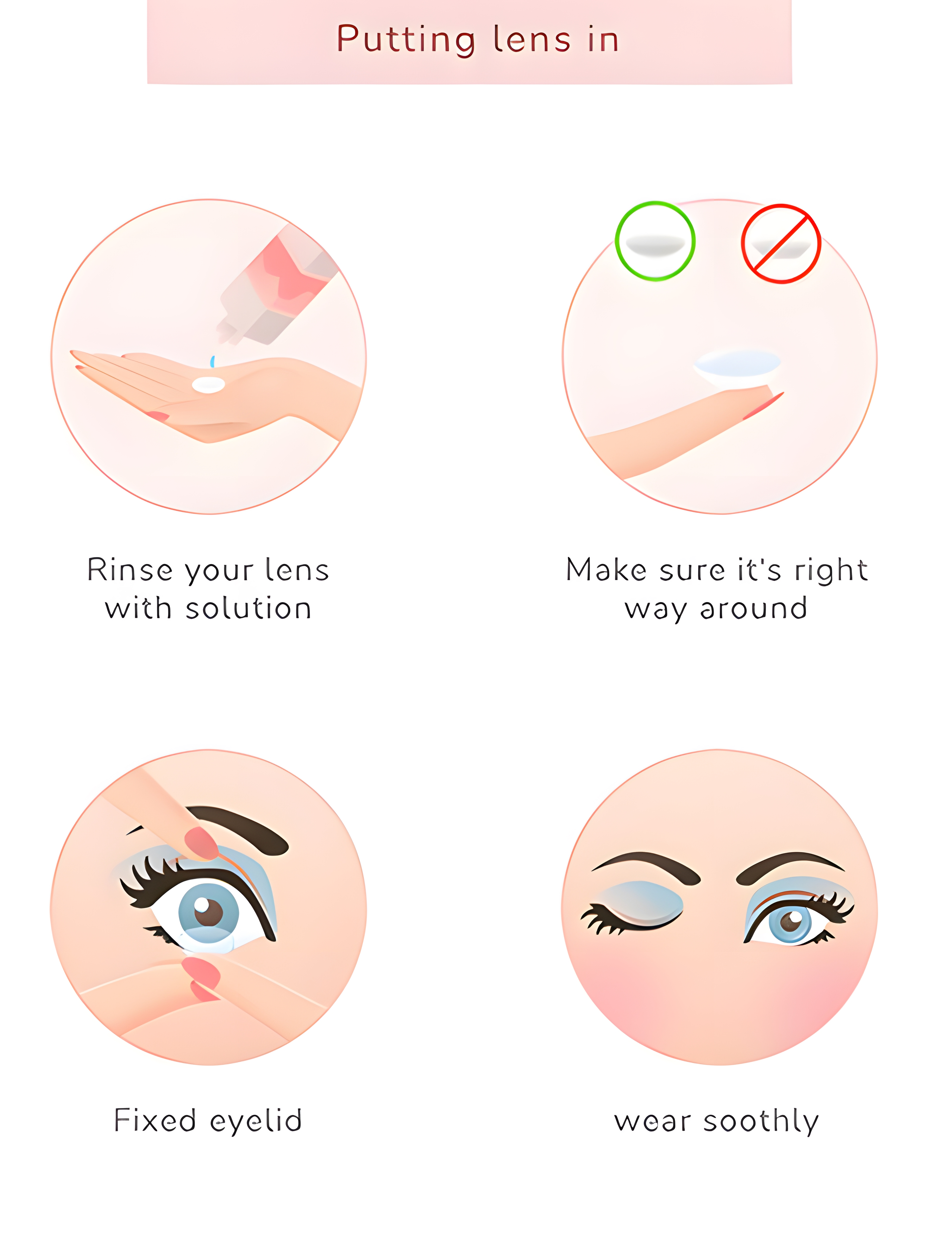 How to Take Out Colored Contacts
Once it is time to take them out, these are steps to follow too. This is how to take out colored contacts: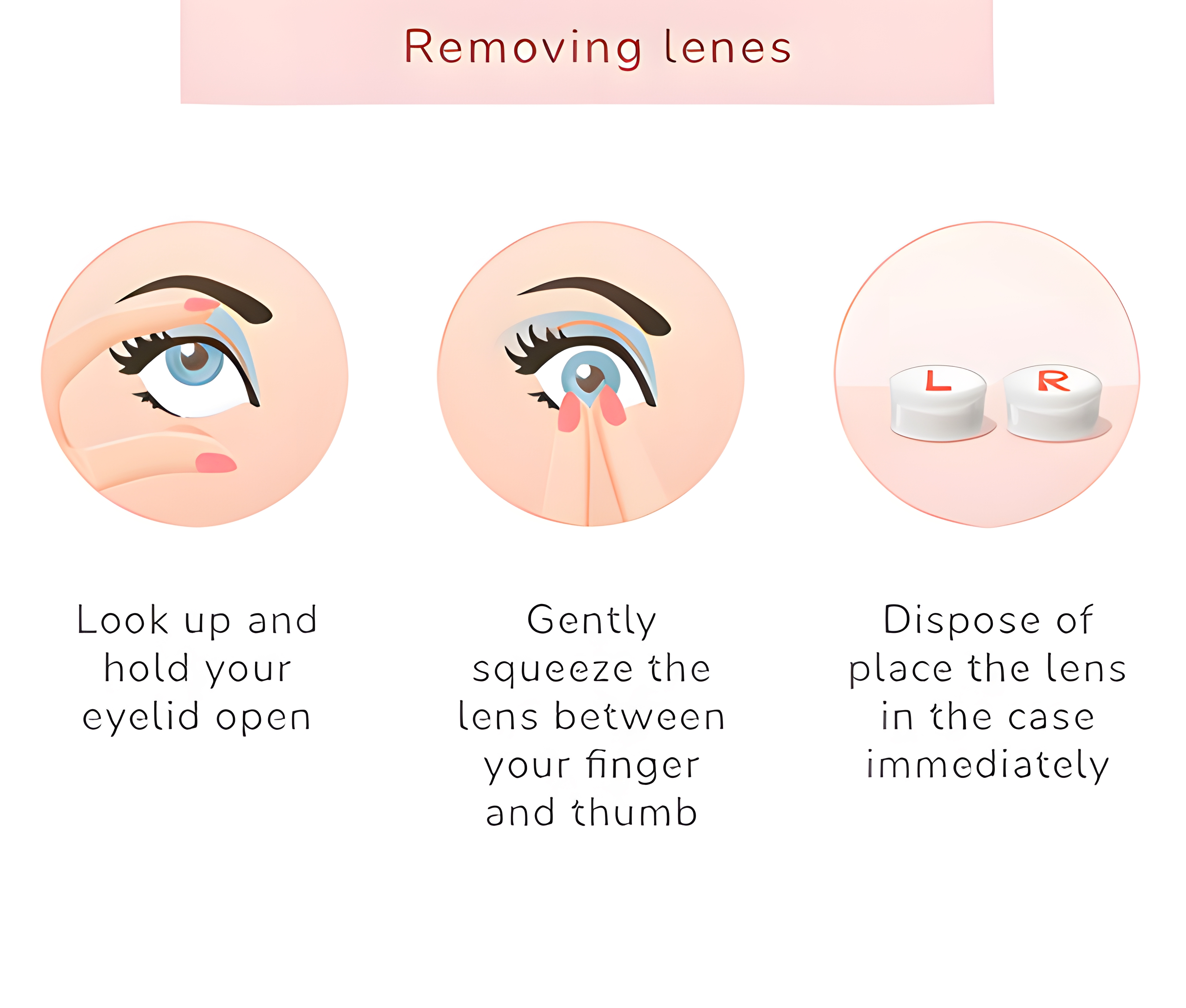 Colored Contacts Do's and Don'ts
How long do colored contacts last? Some will last for a day, week, weeks, months, or year. As long as you are not wearing the daily disposable ones, your contacts will need care. You also have to handle them with caution.
Take a look at some tips on how to take care of colored contacts. Always use lens care products to clean, disinfect, rinse and store your contacts.
Never go for tap water since it contains minerals and other damaging elements, including chlorine and metal particles.
Avoid wearing them if your eyes are red or irritated since it could be a sign of disinfection
Don't share lenses
Neither should you sleep with them still in your eyes
How long can you wear color contacts? The recommended period is at most 8 hours a day
Replace your lens case every three months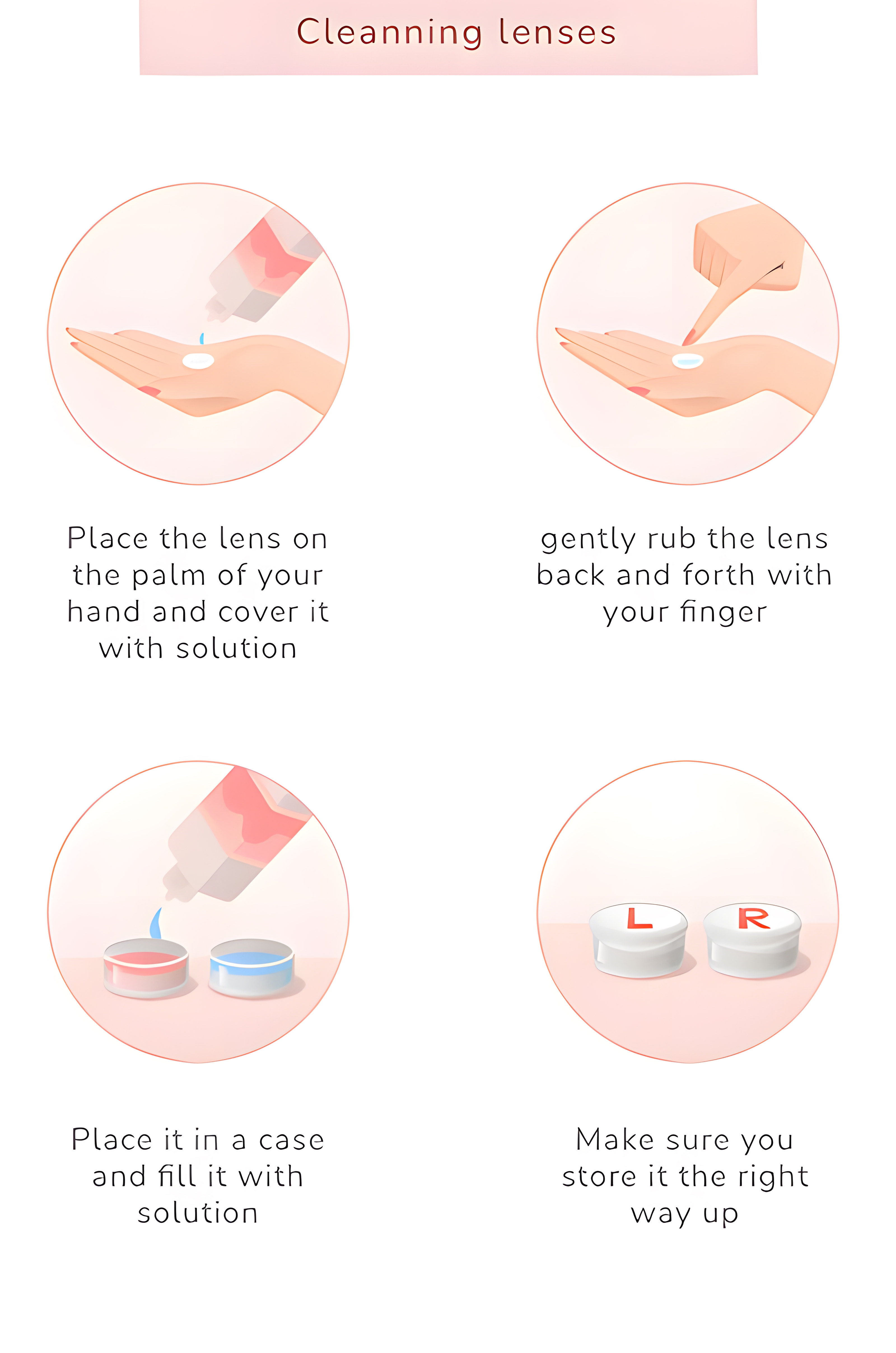 Part 2 - Recommended colored contacts for newbies
Given the many types of colored contact lenses out there, it can be challenging, especially for beginners, to choose a pair that suits them best. Fortunately, this segment will make such a daunting task easy. It focuses on how to choose the right colored contacts and some great recommendations that won't disappoint.
How to choose colored contacts that suit you the best.

If it is your first time wearing colored contacts, consider the following to avoid settling for the wrong one.

Purpose:

Some people wear colored contacts for medical reasons, whereas others do it for fun. If you belong to the first group, you should look for colored contacts for prescriptions. Additionally, let the doctor's prescription guide you. Never forget that power differs from one prescription and contact lens to another since the vision correction levels are also different. On the other hand, people doing it for enjoyment can grab colored contacts for non-prescriptions, which will suit them just fine.
Eye Color:

The best colored contacts for dark eyes are opaque colored tints. Nevertheless, if you want a change that looks as natural as possible, hazel or honey brown colored contact lenses will do the trick. On the other hand, the right colored contacts for light eyes depend on their colors. For instance, blue eyes will go well with another shade of blue or gray.

Size:

When it comes to how to choose contact lenses size, there are two crucial aspects to consider. They include graphic diameter (G.DIA) and base curve (BC). How do you choose base curve for contact lenses? Since it is the curvature of the lens, the natural curvature of your eyes should be the determinant to ensure that they sit securely on them. The graphic diameter should not be wider than the eyes unless you are wearing them for enlarging purposes.
Frequency:
If you wear contact lenses occasionally, daily disposable contacts will be a perfect purchase. You can always grab a new pair the next time you choose to wear them. However, if they are an integral part of your life, go for those which last for a week, weeks, months, or years.

Quality:
You don't want colored contact lenses that jeopardize your eyes. Additionally, no one wants to keep replacing their lenses every now or then due to damage. For those reasons, buy high-quality contacts from trustworthy brands.
Budget:
Consider the money in your pocket as well. However, never compromise on quality when choosing cheap lenses, especially if you need them for medical reasons.
4 Recommended Colored Contacts Collections for Beginners
We have up to 4 colored contact lenses that won't disappoint to narrow your search even further. Check them out!
Want a special and natural look, try Taylor Blue Colored Contact Lenses. With a Violet Blue ring and the natural golden brown pattern imitating human's real iris, these contacts will make your eyes bright. They have good coverage and can easily blend with your natural eye color. It can be incredibly beautiful in the sunlight.
They come in four clors,including Blue Gray,Brown,Green Gray,Violet.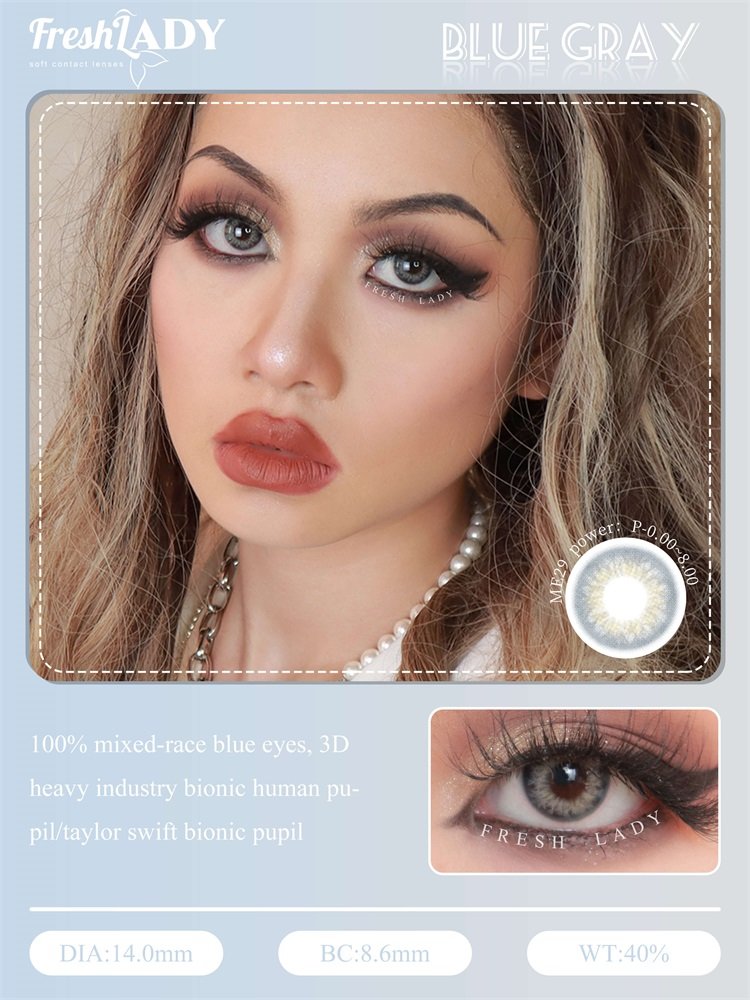 Inspired by the polar lights of Nordic, we have mixed hundreds of colors in order to find the most ideal ones similar to the this magnificent landscape. After dozens of times failing, finally we succeed with this Polar Lights Series. A little exotic style with the natural effect, wearing these contacts, you can bath in the mysterious polar lights without traveling to Nordic.
They come in four clors,including Blue Gray,Brown,Green,Gray.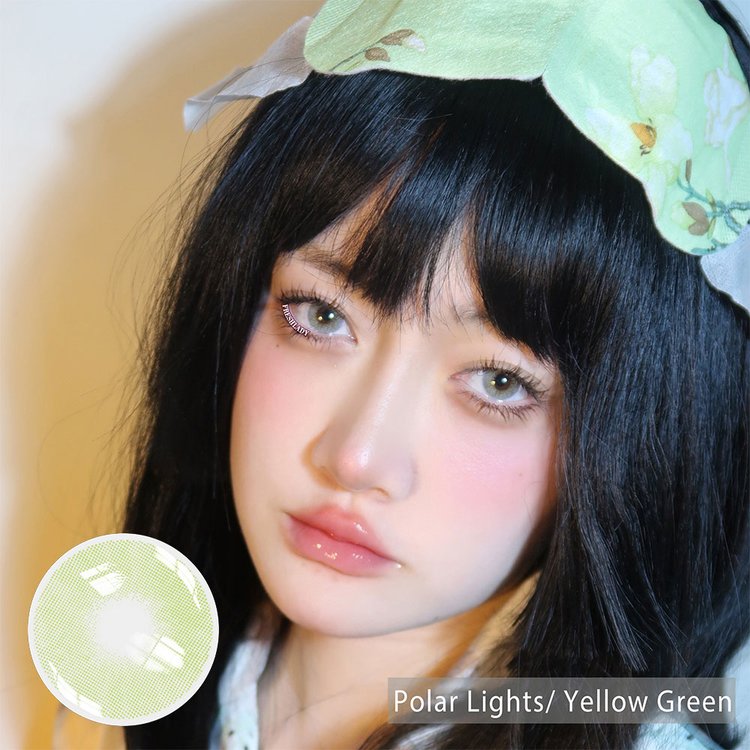 How can anyone not like Wildcats? They are cute, sexy, fluffy, and mysterious. We love those cat eye makeup so much with sharp eyeliner and long lashes, but that is not perfect enough, don't forget the eye color. So we have prepared this Wildcat series for you in 4 colors: brown, Julia brown, blue, and green. The outer circle and the inner circle are perfectly integrated with the natural pattern, which can make your eyes as clear and deep as the cat's eyes.
The Ocean lenses are printed in a unique way because there are various unprinted pieces around the pupil in the form of small dots. This ensures a very smooth transition, making the lens look very natural. Ocean series has blue, green, gray, cyan-gray, brown, and jade-brown color, those Ocean lens is wearable over both light and dark eyes and will give a different fantastic effect on each eye.
As far as the colored contact lenses are concerned, you can't even tell that the wearer has them. They also make the eyes look clear and beautiful. Their diameters are 14.2 mm, whereas the base curve is 8.6 mm.
Conclusion
With the above information at your disposal, it becomes easy to choose the best colored contact lenses. It also puts to rest other details regarding them from base curve to dia. Wearing, taking out, and taking care of them will also be easy, not forgetting some of the best products discussed.
Comment